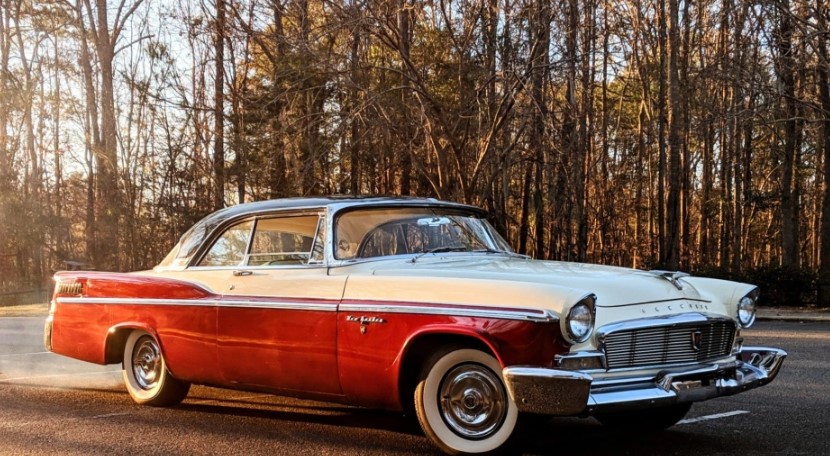 The Chrysler New Yorker St. Regis was new for 1955
Chrysler launched a new division. This division was still made by Chrysler, the corporation, but it was no longer a Chrysler model. It was called "Imperial", which became its own brand.
In response to this new division, Chrysler expanded. The 300 model introduced an unexpected new sporty look and the New Yorker was promoted to the highest tax bracket. Thus, there was now a hole at the top of Chrysler Division's lineup where the Imperial used to live. Chrysler filled that gap with the New Yorker St. Regis.
Available only as a two-door hardtop, the St. Regis was basically just a trim option. It received the same Hemi V-8s as the other New Yorkers did. While contrasting-color roofs were common in 1955, the St. Regis used the Windsor's chrome side spear and brought the roof color down onto the hood, the tops of the fenders and the tops of the doors. For 1956, with two-tone paint more widely available in the Chrysler line, the St. Regis was given something no other Chrysler had a three-tone exterior. The roof could be painted a contrasting color to the rest of the body, whose sides and top surfaces already contrasted. Other St. Regis exclusives included a color-keyed two-tone steering wheel, upgraded interior fabrics like the gray cloth seen on our feature car, and full carpeting.
If the St. Regis doesn't seem to stand out massively from other New Yorkers, consider that it only cost $44 more than a similarly equipped Newport. The extra couple of dollars a month to move from Newport to St. Regis worked out to just over one percent of the base price of either automobile. Perhaps as a result of this high-style-for-chump-change maneuver, Chrysler buyers drove home 6,686 St. Regis's for 1956, compared to just 4,115 of the Newport two-door hardtops.
This car earned its ranks among some of the most collectible cars. As such, we only have 250 replicas created. This is your chance to bring home a classic! Click the link below to order now
https://retrohobby.com/new-acme-retro-studios-1-18...