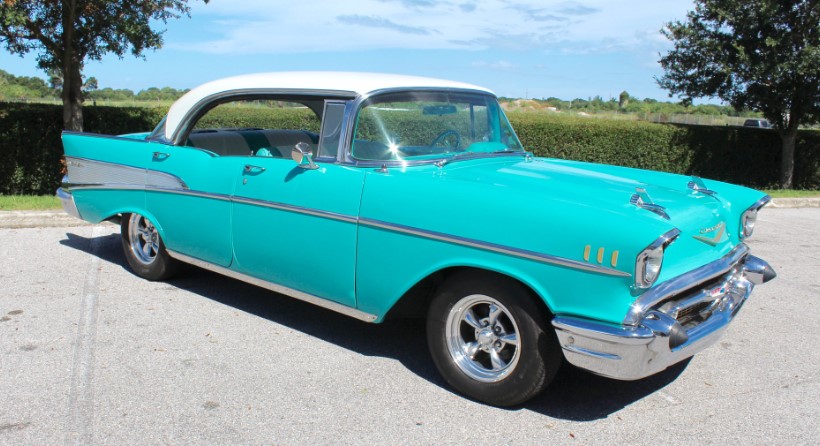 The Bel Air...
Baby Boomers consider the 1957 Chevy Bel Air an icon, we would have to agree. Praised as one of America's favorite cars, the Bel Air is a symbol that many associate with the cool days when Elvis "The King" and Rock 'n' Roll reigned supreme.
As more blue-collar workers entered the middle-class, they spent their income on houses, cars and televisions. As such, General Motors understood how to leverage the public the right product in the right place at the right time. The 1957 Chevy Bel Air was an affordable and yet beautiful-looking car that was perfect for the rising middle-class.
In 1950, Chevrolet debuted the iconic car that would set the tone for decades to come. The first model came in under the Deluxe Styleline . Models with similar characteristics had failed miserably in the past to gain traction among the fan base. The Bel Air seemed to come just at the right time.
It was in 1953 that Chevrolet renamed the top of the line Styleline series to Bel Air. The body of the car was now distinguishable by a wide chrome strip of molding that ran from the rear fender bulge to the rear bumper and Bel Air scripts.
The interiors of the Bel Airs also became more luxurious when it earned its name in '53. Bel Air interiors feature lots of chrome and a top of the line steering wheel and full chrome horn ring. This year also marketed the standardized carpeting and full wheel covers on the model.
Engines throughout the first generation included a 3.5L I6 & 3.9L I6 -- attached to a 3-speed auto or manual.
We took this beautiful classic and added our own little twist... With only 250 pieces produced, this is a perfect addition to any collection. Click the link below to order yours today
https://retrohobby.com/new-acme-retro-studios-1-18...